Auckland Driving Instructor Lynn Holland
Teaching Aucklanders to Drive Since 2011
As an Auckland driving instructor since 2011, I appreciate just how challenging the traffic in Tamaki Makaurau can be! Having worked for the AA and now with my own independent Auckland driving school, it's my goal to teach you the skills you need to become a confident and safe driver in all conditions.
My typical student is a teenager keen to get started, but I also provide lessons for mature students who have left driving till after their OE trip or have started their families. My oldest student to pass their test was 64. I also provide refresher courses for experienced drivers and international visitors like au pairs and nanny's.

I draw from my background as a flying instructor, remaining cool, calm and collected with my driving students too. Driving and flying both concern large, heavy machines and need to be operated responsibly. Professional lessons with me will take the stress out of learning and speed up the process.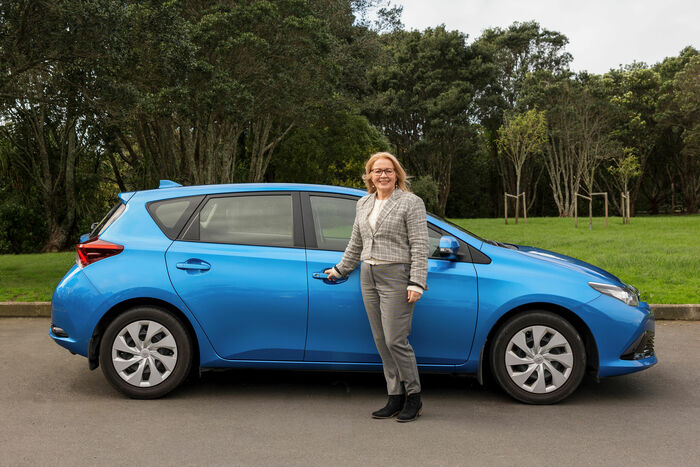 Importance of Professional Driving Lessons
Driving in Auckland has changed over the years. With more traffic on the road, it is important to drive safely and calmly, use defensive driving skills and keep up to date with changes to the New Zealand Road Code. Having situational awareness ensures you are aware of the hazards that are around you, while maintaining smooth control of your vehicle and following the road rules. Keeping a space bubble around your vehicle at all times is your best insurance in case of emergencies.
The benefits of receiving professional driving lessons from an instructor include:
Personalised driving lessons - while there are skills and knowledge every driver must master, every driver is unique. I provide personalised lessons that meet your specific needs, helping you to develop the skills you will need to be a safe driver.
Learning correct driving skills & habits - your parents or workmates mean well, but are not the best people to teach you how to drive. It is so easy to learn bad habits and incorrect skills, but working with a driving instructor ensures you learn the correct techniques the first time.
Confidence building - as your instructor, I will help you to develop the skills you will need to drive safely in any location and situation, while fully supporting you at all times.
Safer drivers - drivers who have professional lessons have less accidents and can pass their tests first time with confidence